Embracing the Mess: Renovating a 1970s Fixer
Blogger and author Elsie Larson of A Beautiful Mess is no stranger to big home projects, but she admits tackling her latest endeavor – a 1970s ranch-style home in Nashville – has been daunting.
"I wasn't intimidated at all when we looked at this house," she said. "But I probably should have been."
The sprawling home on the outskirts of East Nashville was preserved from the 1970s, complete with original appliances, chandeliers in every room, heavy drapes and, of course, both red and teal shag carpet.
Managing home improvement remotely
Larson and her husband decided to just "go for it," beginning a full renovation shortly after they closed on the home in May. Still living seven hours away in Springfield, MO, they relied on updates from their contractor through phone calls and texts.
Although they moved into the home in mid-September, the house is nowhere near done.
If there's anything Larson wishes she knew beforehand, it was that this project, like nearly all home renovations, was going to take twice as long as expected. A rotting subfloor, stains on the hardwood, and other issues extended the timing.
"I'm excited for it to be back to normal," Larson says.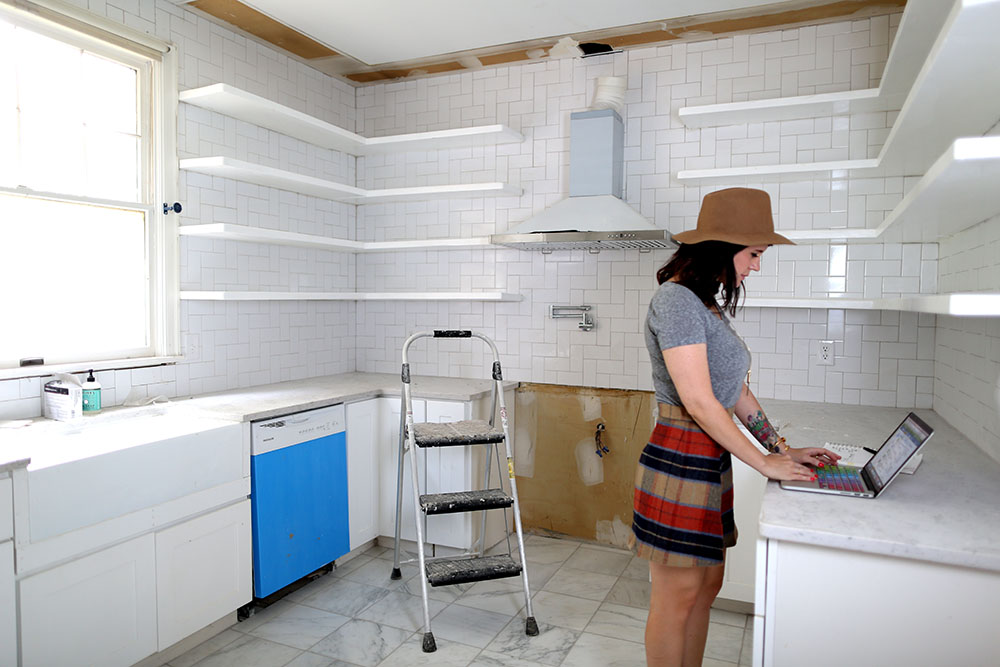 Elsie Larson in her partially renovated kitchen. She chose white tiles and open shelving to keep the space bright and airy.
Leading with creativity
Despite the complications that come with renovating, Larson wouldn't have it any other way.
"I don't know that I could ever buy a house that didn't need anything," she explained. "Whenever I see a house that's renovated from top to bottom, there's just no way I would love all of those choices. So I always go with a house that needs a lot of work."
Personalizing a house is something she believes in, and she says she truly enjoys the process. Many of the projects she's planning are ones she'll do herself, and she hopes to bring the '70s home back to its original glory, maintaining some of the style elements of the decade.
"I'm inspired by Palm Springs and Hollywood Regency in the 1960s," she said. She's envisioning white with pops of color, and has already added a strong punch of teal in an unexpected place: the floor.
The homeowners had removed the shag carpet and planned on whitewashing the wood floors beneath, but discovered there were stains on the hardwood.
"We told the contractor it was fine, and that we liked rugs, but the stains are not really in a place where rugs would go," she explains. "We knew we had to stain the floor a darker color -and we ended up going with a crazy darker color."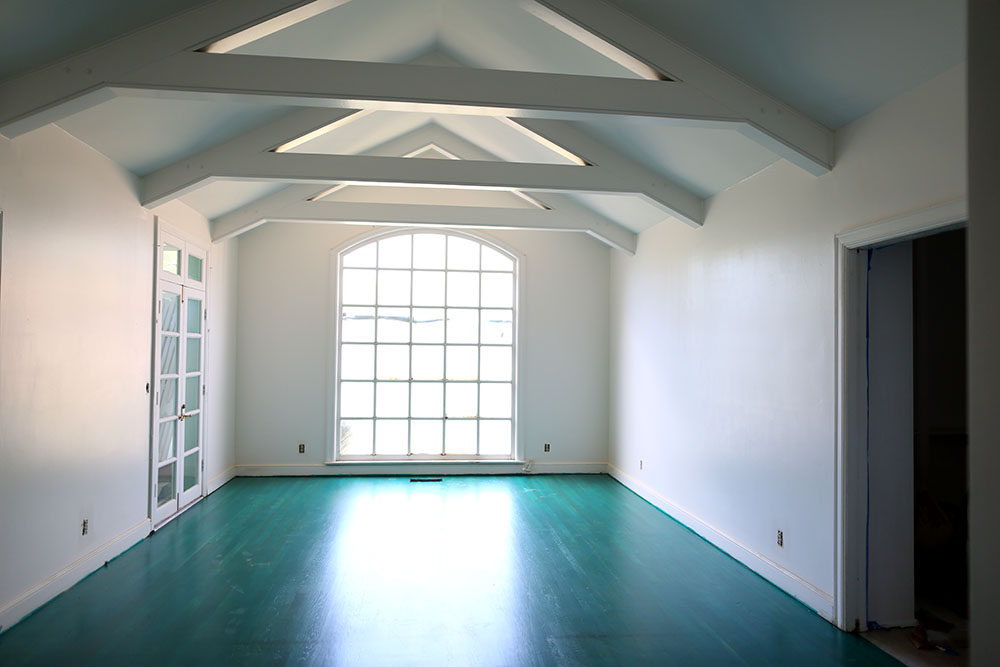 Turquoise-stained floors are a fun nod to the colors of the 1970s.
In addition to the bold teal floor in the living room, Larson dreams of a graphic palm-print wallpaper in the master bathroom, and, if her husband's up for it, a bright pink door.
Want to add some homemade happiness to your own space? Zillow and lifestyle blog A Beautiful Mess are partnering to give away $5,000 to make your home feel a little more like you. Enter for a chance to win.
Related:
Powered by WPeMatico