How One Couple Completed a Stylish Closet Renovation (and So Can You)
By Erica Sooter
For many people, a closet is just a space to store clothing, shoes and other knickknacks out of sight – a dull yet functional organizational necessity. For one couple, a generous space and ample natural light gave them plenty to work with in revamping their closet.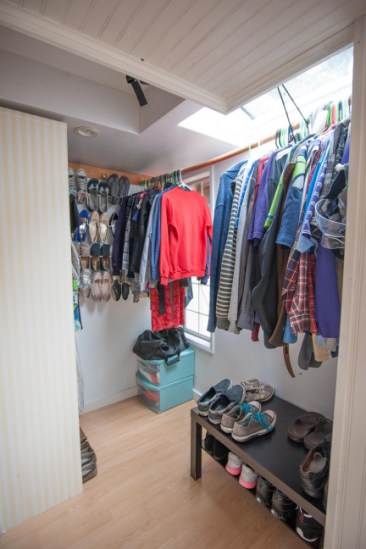 Like many people, the homeowners were making do with a strictly functional closet.
While functionality is important in any closet space, the homeowners wanted to make their closet a design statement and a personal oasis by adding touches of their own individual style and creating defined spaces. Designating areas for getting ready, storing accessories, and even relaxing turned a mundane closet into a haven that gives mornings an extra boost.
Here are some tips for improving your own closet space, with examples from the homeowners' renovation project.
Reforming the framework
Starting with the bones of the closet, you can begin to up the style factor. If your budget allows, replace unsightly dowel rods and builder-basic wire shelving with whatever speaks to you, be it luxe wood built-ins, industrial pipe rods, or something in between.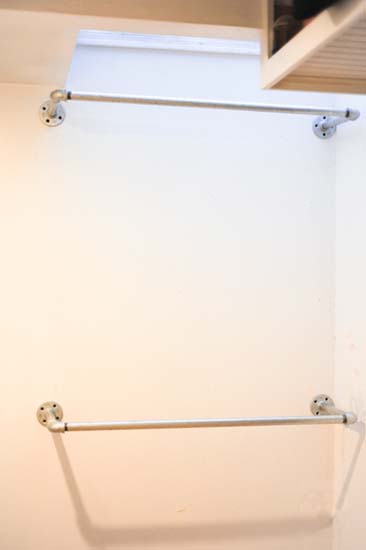 Replacing the single wooden dowel rod with two industrial-style closet rods uncovered a window in the closet and opened up floor space.
Use styled bookcases for storage, or bring in a wardrobe cabinet to keep things neat and pretty. Switch out mismatched wire and plastic hangers for chic wood ones to give off a boutique feel.
Even if you're on a budget, you can get the dream closet you've always wanted by slapping on a fresh coat of paint or switching up where you hang your clothes.
Streamline prep time
If your bathroom is short on space and you're constantly running into your significant other during the morning rush, create a getting-ready station in the closet. By adding a mirror and keeping your jewelry and makeup nearby, you can try different looks and outfits without having to leave the closet.
Pretty up this station by using beautiful hooks, jewelry trees and dishes for storing bracelets, necklaces and rings.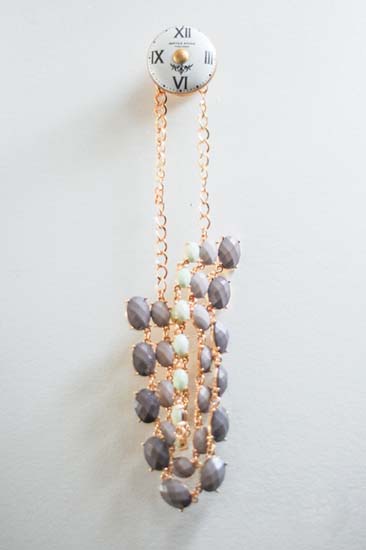 Decorative hooks display favorite jewelry pieces and provide visual interest.
You can even amp up your routine by adding a radio so you can rock out while putting on your pumps. Channel your inner Carrie Bradshaw and make your closet a fun place to get ready.
Get set to accessorize
Give your accessories the love they deserve. Use stylish hooks to showcase a favorite necklace or scarf, or as a place to hang your outfit and accessories for the next day.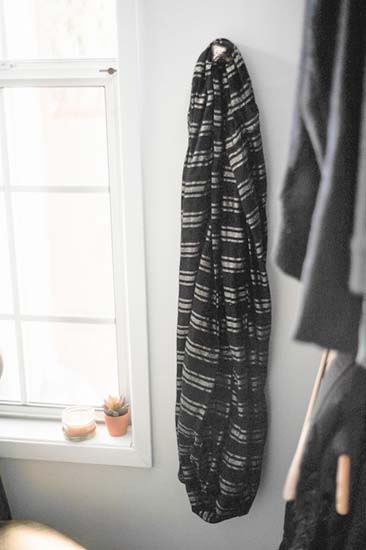 Hanging scarves on the wall softens the space and keeps accessories at the homeowners' fingertips.
Sort items like belts, hats, and extra scarves into wire bins to both keep them organized and make a visual statement. Or separate accessories into color categories and make a beautiful rainbow or ombre display on a wall. The possibilities are endless.
Making the most of the space
Keep shoes from looking cluttered by investing in a shoe cabinet, or let them shine by placing your favorite pairs in prominent positions. Show off your personality by highlighting your favorite accessories.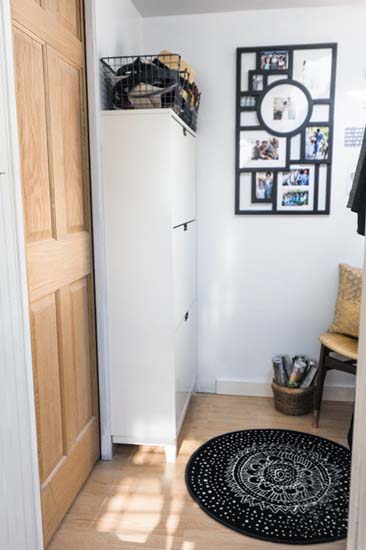 A handy cabinet keeps shoes tidy and tucked away out of sight.
Your closet isn't just a storage space – it's where you start your preparations to take on the day! Make mornings more relaxing by creating a calming corner. Pop in a chair or stool, if there's space, for sipping coffee before the day gets started. Throw down a cozy rug to warm your toes on cold mornings.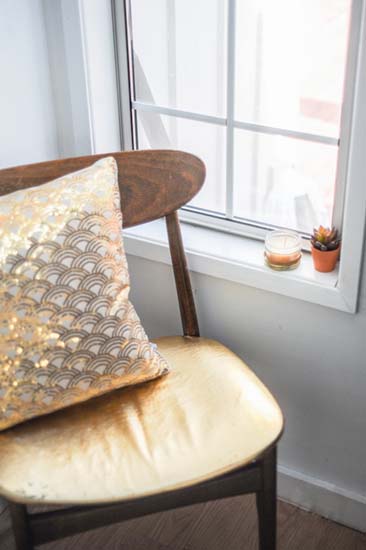 A convenient chair provides a spot for slipping on shoes or just taking a quiet moment to gaze out the window.
Your personalized retreat
Create your own personal gallery by adding some interest to your walls. Hang family photos, a favorite piece of artwork, or some inspirational quotes to boost your confidence.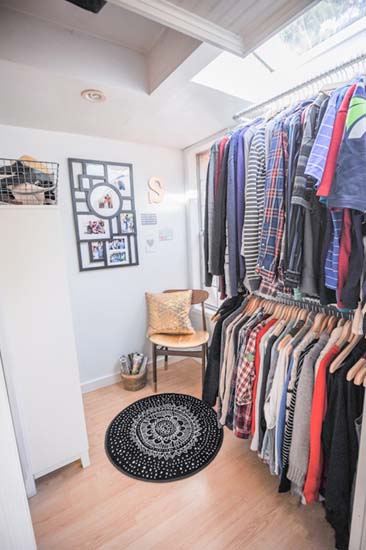 Well-organized and tidy, the homeowners' renovated closet reflects their personal tastes and interests.
Add in things that make you smile – whether it's a bouquet of flowers, a stack of magazines, or your favorite candle. By incorporating elements that are uniquely you, you'll make a personal retreat and start your day off on the right foot.
No matter what size closet you have, personalizing it will make it more than just a closet. As these homeowners proved with their closet renovation, adding stylistic design touches, designated areas, and personal elements will create a custom space that fits your needs and acts as a personal sanctuary.
See more closet design inspiration.
Need help customizing your closet this season? You're in luck! Zillow Digs and The Container Store are teaming up to give one lucky winner a $5,000 shopping spree at The Container Store, as well as a consultation with a closet organizer. Enter now for your chance to win!
Related:
Powered by WPeMatico